Coupons

With coupons, customers can purchase a gift certifi cate which entitles them to money off a future purchase.

To use the feature, we of course have to install the module; it is already built into the e-Commerce module, so we just need to check the box to enable it in the Modules page.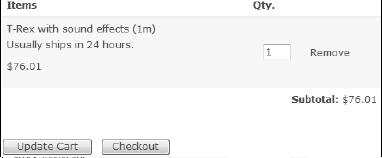 Once it is installed we have a new product type, which is Gift Certifi cate. Let's create one and see how it works.

The options available are the same as with the other products; we can enter a name, a description, a price, as well as other options relating to the other modules we have installed such as the Role assignments or the User account provision. The difference with how this module works is that if we set the price to $0.00, then the customer can choose the amount for the voucher.


Book Excerpt: Selling Online with Drupal e-Commerce
Chapter Contents
This excerpt from Selling Online with Drupal e-Commerce by Michael Peacock, is printed with permission from Packt Publishing, Copyright 2007.